Land Rover InControl and Technology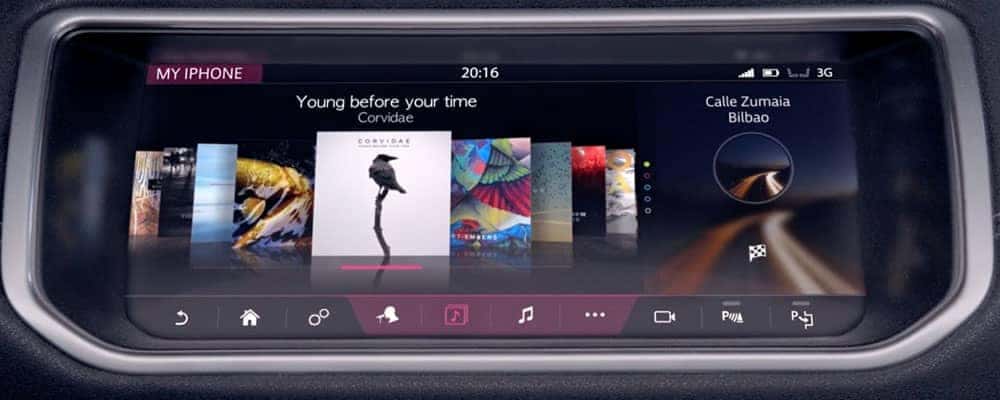 Land Rover InControl® is an infotainment technology for Land Rover models that allows drivers to stay connected on Delray Beach and Boca Raton roads. Have all your questions answered about this tech below, and contact us at Land Rover Palm Beach if you have any questions. You can also check out the latest Land Rover technology demonstrated at the Chicago Auto Show!
How Does Land Rover InControl® Work?
Land Rover Connected Navigation: This feature is only available in combination with InControl® Touch Pro™, available inside the Land Rover Discovery, Range Rover Evoque, and more. Connected Navigation includes:
Real Time Traffic Flow, which gathers millions of pieces of data to provide the most up-to-date traffic information, so you can anticipate issues and reroute if needed on your way to outdoor activities in Palm Beach.
Route Planner App door-to-door routing, which allows you to pick a destination from your smartphone even before you get in your car. Once in the car, the vehicle navigation takes over, and automatically passes the routing back your smartphone once you exit the vehicle for pedestrian directions and more.
Online search abilities via Connected Navigation means you can access sites like Trip Advisor, Lonely Planet, and more to find out information about your locale.
Satellite View and Street View give you a better idea of unfamiliar surroundings so you can see exactly where you are and where you are headed, with a bird's eye view or 360-degree panoramic street view.
Live Apps means you can get compatible systems to talk to each other–for example, your navigation system can pull flight information and alert you of any changes.
InControl Wi-Fi™: Wi-Fi Hotspot via AT&T for in-vehicle internet access on up to eight devices at once. Wi-Fi hardware is fitted to the vehicle with a mobile SIM card and 3 months or 3GB of data for the trial period. Land Rover InControl® Apps: This allows you to use vehicle-optimized smartphone apps like calendars, music streaming, and more, which can be accessed on your Land Rover touchscreen when you connect your phone to the vehicle's USB port.
To install one of your compatible apps through InControl, open Land Rover InControl Apps on your smartphone and scroll through "Not installed apps" to find the app you want to use in your vehicle.
Which Models Offer Land Rover InControl®?
Stay connected by upgrading to the latest Land Rover. When you are getting ready to purchase a new Land Rover, be sure to request InControl® Apps capability, as this feature can only be fitted at the factory.
What Devices Can Use the Land Rover InControl® Apps?
InControl® Apps can be used for compatible smartphone devices with USB cables that come with the phone, or brand-specific USB cables (i.e. iPhone Lightning cables from Apple if you have an iPhone). Tablets are not supported for InControl Apps at this time. Contact Land Rover Palm Beach to find out more.
How Can I Explore Land Rover Technology Near Wellington?
Learn more about Land Rover services and applications at Land Rover Palm Beach, or explore more features like InControl® Remote & Protect™, the panoramic roof gesture sunblind, and more. Looking for a Land Rover model at an affordable price? Check out our pre-owned vehicle specials, and explore the differences between leasing and financing so you can make the best decision! Check out the Range Rover Evoque interior to learn more. Be sure to check out how many seats the Range Rover has to help you make your decision!
---
More From Land Rover Palm Beach
The Range Rover Evoque has a redesigned interior for 2024 that makes this luxury subcompact SUV even more comfortable, convenient, and stylish. There's eye-catching chrome accents, grained leather upholstery, heated front seats, and a heated steering wheel for easier and more enjoyable rides in Delray Beach and the nearby communities. So what else does the…

If you're looking for a high-performance new luxury SUV, Land Rover Palm Beach has got the perfect model for you: the Land Rover Defender! The Defender is a more rugged member of the Land Rover family compared to other vehicles like the Discovery and the Range Rover, designed to handle an off-road adventure as easily as it…

There are three body styles with a total of 15 2024 Land Rover Defender trim levels to choose from. Prices range from $56,400 MSRP, for the base-model Defender 90, to $118,600 MSRP, for the high-end Defender 110 V8 Carpathian Edition. Regardless of which one of the 2024 Land Rover Defender configurations you choose, every…