Land Rover Palm Beach Sponsors Holiday in Paradise 2021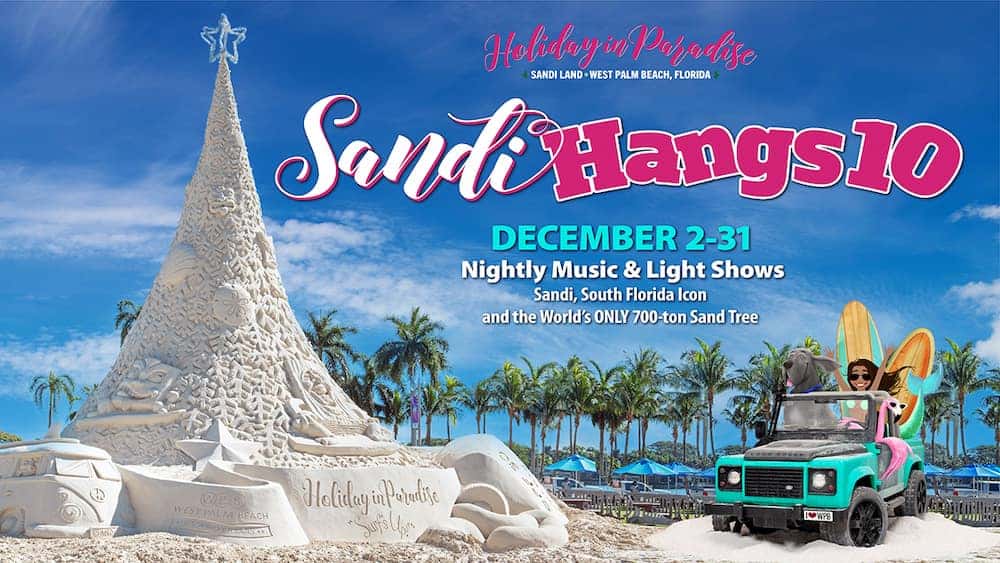 Land Rover Palm Beach is a proud sponsor of this year's Holiday in Paradise here in West Palm Beach, and part of this year's festivities will be centered around celebrating the 10th birthday of "Sandi," the sand tree! On top of this exciting milestone, there will nightly music and light shows, so you won't want to miss out on the action. Learn more about what to expect with Land Rover Palm Beach!
When is Holiday in Paradise 2021?
This year, Holiday in Paradise will be taking place from December 2nd through December 31st. To properly celebrate Sandi's 10th birthday, the city of West Palm Beach is bringing back its annual Clematis by Night Holiday Tree Lighting, and country music star Brooke Eden will be headlining opening night on December 2nd, with the event taking place on the West Palm Beach waterfront from 6-9pm.
All throughout this year's Holiday in Paradise, there will be nightly light shows and music from 6-10pm on the quarter. All the action will be taking place at 100 N. Clematis Street.
Who is Sandi?
Sandi is the name of the 35-foot, 700-ton holiday sand tree, and she is the star of Holiday in Paradise each year! In fact, if you've been at the waterfront any time after November 17th, you've likely seen a team of internationally-renowned sand sculptors working tirelessly to bring Sandi to life for this year's event.
She is certain to be the belle of the ball this, as she is every year, and what better way to congratulate her on turning 10 than by voting for her for USA Today's 10Best Public Holiday Lights Display award. You can vote for Sandi here! Please note that voting closes on December 6th.
Holiday in Paradise 2021 Events
Aside from the nightly music and light shows, there is a packed schedule of fun events at this year's Holiday in Paradise that you won't want to miss, including:
Santa at Sandi (December 2, 10 & 18) Santa – and kids looking to share their annual wish lists – will be safely distanced from each other, with Santa tucked inside a snow globe. Children and families can stand outside of the globe for photos. Visits with Santa are free, and families are welcome to take pictures with their mobile phones.
TEE-ki Time Mini Golf (Thursdays – Sundays in December from 6-9 pm) Located in the North Clematis Trellis (north side of the Great Lawn). Visit the WPB Tiki for snacks and to purchase a game of golf.
Sandi' s Story Time (December 10 at 6pm) Families are welcome to gather at the foot of the Sandi tree for an unforgettable experience, as Sandi sings along and reads aloud. The event is free (100 N. Clematis Street). Santa will appear in his snow globe immediately following at 6 p.m.
Sandi's Pancake Breakfast (December 18 from 9-11am) This third annual activity features a $6 per person (plus processing fee) pancake breakfast. Tickets can be here. Tables will be appropriately spaced and CDC guidelines followed. Breakfast attendees will also have private access to photos with Santa in his snow globe (100 N. Clematis Street).
Sunday on the Waterfront (December 19 from 4-7 pm) Surf's up as the Aloha Islanders perform their Tropical Holiday Spectacular featuring authentic, high-energy Polynesian entertainment with Sandi's Annual Conch Blowing Contest for all ages (100 N. Clematis Street).
Look for Land Rover Palm Beach at This Year's Holiday in Paradise
As a sponsor of this year's festivities, you will likely see us taking in all the magic at Holiday in Paradise 2021, and if you do, we hope you'll come up and say hi! This year's Holiday in Paradise is sure to make December the most wonderful time of year indeed. For more information about this year's event or our involvement, contact Land Rover Palm Beach today! We look forward to seeing you (and Sandi) there!
Recent News From Land Rover Palm Beach
West Palm Beach, FL – June 08, 2022 – Last night as part of the Inside Track Tour, Land Rover Palm Beach hosted a preview of the New Range Rover Sport for invited guests and owners to receive an up-close first look at the highly anticipated dynamic SUV. The New Range Rover Sport refined appearance…

Are you shopping around Boca Raton for a new Land Rover Range Rover? If so, take a moment to learn about the Range Rover exterior paint colors and Range Rover interior colors to start getting ideas about how you'd like to style your next SUV. Then, come see the Land Rover Range Rover color options…

What can a Land Rover Range Rover Evoque tow on Boca Raton streets? Up to 3,968 pounds, regardless of which 2022 Land Rover Range Rover Evoque trim you choose. Take a moment to learn more about the 2022 Range Rover Evoque towing capacity and engine options. Then, fill out a pre-approval and get in touch…