Land Rover's New Ingenium Engine Boosts Performance, Refinement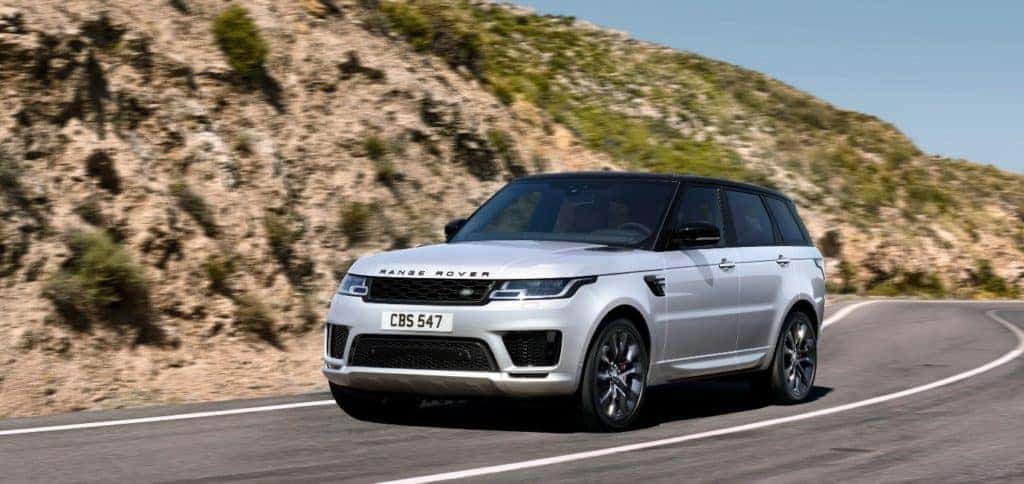 Power, Refinement, Efficiency
Land Rover's all-new 3.0 liter Ingenium In-Line 6 Gasoline MHEV ( and a 2.0L turbocharged 4-cylinder MHEV )combines performance-boosting technologies and a new electric powertrain to enhance power and refinement while improving efficiency. The silky smooth and the super responsive Ingenium engine has an innovative combination of advanced features, including the introduction of an electric supercharger to deliver immediate power response. Able to spool fully in just 0.5 seconds at up to 65,000rpm to maximum boost pressure, the new technology virtually eliminates turbo lag so it's ready when you are!
Supported by a twin-scroll turbocharger and Continuous Variable Valve Lift, which boost power and help the engine breathe with maximum efficiency, the design of the all-new six-cylinder engine optimizes performance and fuel economy as well as reducing emissions – all with customary Range Rover poise and refinement. The new 4-cylinder option is available on the newly redesigned Range Rover Evoque.
The ingenious set-up is based around an all-new Start-Stop system that switches off when stationary and pairs the new 3.0-liter engine with an electric motor. This allows the system to harvest energy whilst the vehicle is decelerating and stores it in a 48V battery.  This energy can then be re-deployed through torque-assist, reducing C02 emissions by reducing the workload on the engine.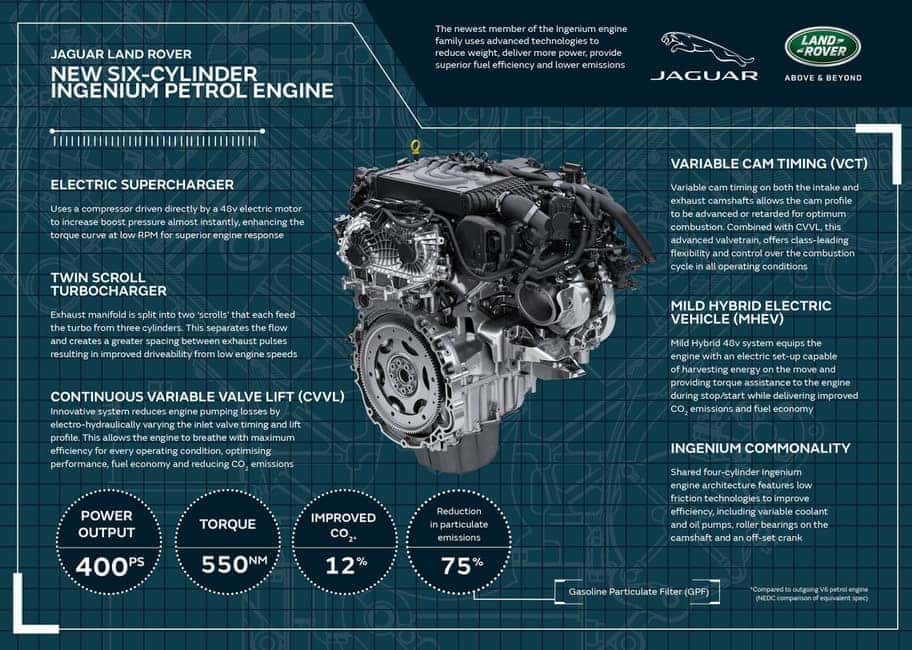 Designed and developed in-house by Jaguar Land Rover, the latest six-cylinder Ingenium engine will be manufactured at the £1billion Engine Manufacturing Centre in Wolverhampton, West Midlands, alongside the current four-cylinder petrol and diesel units.

P360 3.0 Liter Ingenium In-line 6 Gasoline MHEV (355 HP)
Power: 355 hp
Torque: 365 lb ft
Maximum Speed mph: 130
Acceleration 0-60 mph in 6.2 sec
P400 3.0 Liter Ingenium In-line 6 Gasoline MHEV (395 HP)
Power: 395 hp
Torque: 406 lb ft
Maximum Speed mph: 140
Acceleration 0-60 mph in 5.8 sec
About Ingenium
Ingenium, the new family of premium diesel and petrol engines designed, engineered and manufactured by Jaguar Land Rover, delivers class-leading levels of torque, horsepower, and refinement while reducing emissions and fuel consumption.
The all-aluminum Ingenium petrol and diesel engines were built to maximize performance and environmental sustainability at the same time as driving down running costs for car owners.
A host of advanced technologies enables Ingenium engines to deliver a blend of high performance and low fuel consumption. Neatly integrated into the cylinder head of our petrol engines is an electrohydraulic valvetrain featuring patented control algorithms developed by Jaguar Land Rover. This enables fully variable control of intake valve lift for optimum power, torque, and efficiency throughout the engine's operating range.
The Ingenium in-line six engines MHEV will be available on 2020 Range Rover and Range Rover Sport. The New Evoque is available from launch with a 4-cylinder Ingenium engine and 48-volt mild-hybrid electric vehicle powertrain and Discovery Sport is soon following.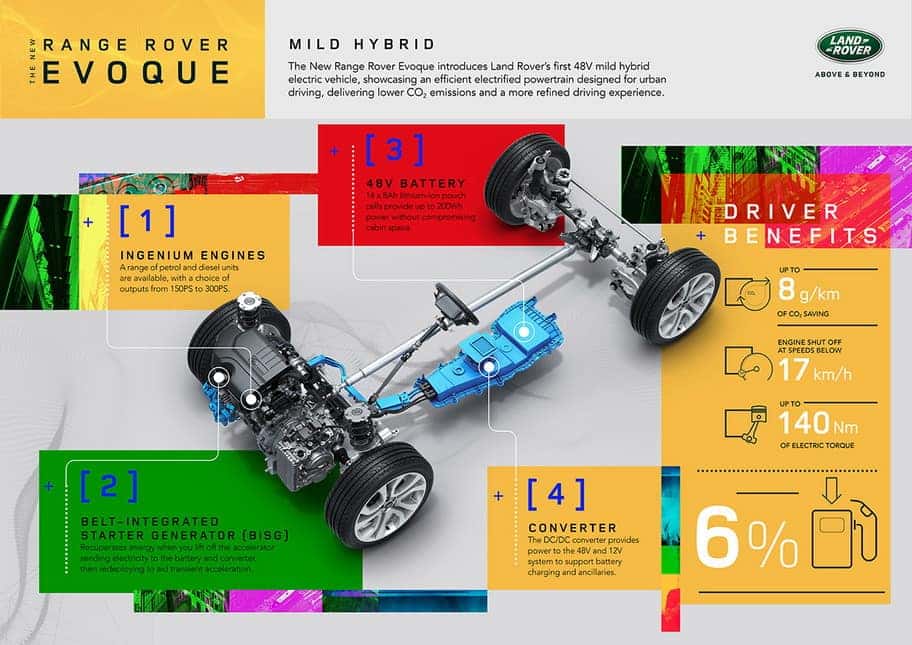 EXPLORE THE NEW INGENIUM ENGINE AT LAND ROVER PALM BEACH!
Are you ready to experience high-class, luxury technology features in person? Stop by Land Rover Palm Beach, and we will get you behind the wheel of the new Range Rover Evoque, Range Rover , Range Rover Sport or Discovery Sport and explore all of the available and optional technology features. We're proud to be a trusted Land Rover dealership in West Palm Beach Contact us today with additional questions or to schedule an appointment.
For more information about the all-new Ingenium engines from Land Rover, contact Land Rover Palm Beach at 866-800-8206.