2020 Land Rover Defender Preview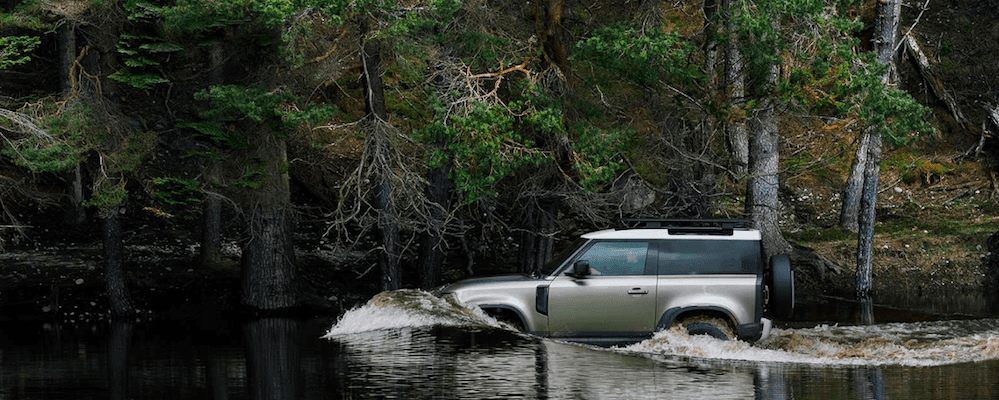 The 2020 Land Rover Defender is creating a lot of hype that is leaving consumers and industry experts alike wanting more details! Who can blame them? At Land Rover Palm Beach, we're proud to be previewing the new Land Rover Defender, so you can see what to expect before this luxury SUV arrives at our Delray Beach-area dealership. Feel free to contact us if you have any questions.
2020 Land Rover Defender Design Elements
When it comes time for a new model to roll onto our lot, West Palm Beach drivers often ask what it's going to look like. Luckily, we have some early details we're able to share! This upcoming Defender is expected to have an independent suspension and may offer a two-door version in addition to the four-door style. Many suspect it will balance the style of the original Defender with the modern Land Rover design you know and love.
Original Defender Design
The first Defender – the Land Rover One Ten – was released in 1983 and had a sleek 80s angular design and round headlights. Similarities between the original and new Defender could include:
Boxy design and thick roof
Sharp corners and 90-degree angles
Flat hood and sides
Short front and rear overhang for stronger off-roading and handling steep angles with ease
Split rear hatch where the top swings up and the bottom opens to the side
Modern Defender Design
With the 2020 Defender in particular, there's quite a bit of speculation of a split-hatch designed to accommodate a spare tire, as well as these potential updated design elements:
Curved windshield and curved front grille and bumper
Less pronounced A-pillar separation
Grille design and rectangular headlights similar to current 2020 Range Rover
Side panels transition with seamless curving into the fender flares
How Much Will the 2020 Land Rover Defender Cost?
According to Land Rover USA, it looks like the 2020 Defender will be available in two affordably-priced configurations:
Defender 110: $49,900 MSRP
Defender 110 S: $53,350 MSRP
When Will the 2020 Defender Be Available in West Palm Beach?
Despite recent world events, which have obviously impacted auto manufacturing plants around the world, it looks as if the 2020 Land Rover Defender release date is still slated for late spring or early summer. In other words, be on the lookout for this thrilling new model to be arriving at Land Rover Palm Beach in the near future!
2020 Land Rover Defender Virtual Tour
Follow Land Rover Palm Beach For More Land Rover Defender News
The 2021 Defender is now available and we have your details about the Land Rover Defender towing capacity! Give us a call for more information on the 2020 Defender or you have any questions about our current Land Rover inventory.
Recent News From Land Rover Palm Beach
The Range Rover Evoque has a redesigned interior for 2024 that makes this luxury subcompact SUV even more comfortable, convenient, and stylish. There's eye-catching chrome accents, grained leather upholstery, heated front seats, and a heated steering wheel for easier and more enjoyable rides in Delray Beach and the nearby communities. So what else does the…

If you're looking for a high-performance new luxury SUV, Land Rover Palm Beach has got the perfect model for you: the Land Rover Defender! The Defender is a more rugged member of the Land Rover family compared to other vehicles like the Discovery and the Range Rover, designed to handle an off-road adventure as easily as it…

There are three body styles with a total of 15 2024 Land Rover Defender trim levels to choose from. Prices range from $56,400 MSRP, for the base-model Defender 90, to $118,600 MSRP, for the high-end Defender 110 V8 Carpathian Edition. Regardless of which one of the 2024 Land Rover Defender configurations you choose, every…