2016 Range Rover Evoque vs. 2016 BMW X3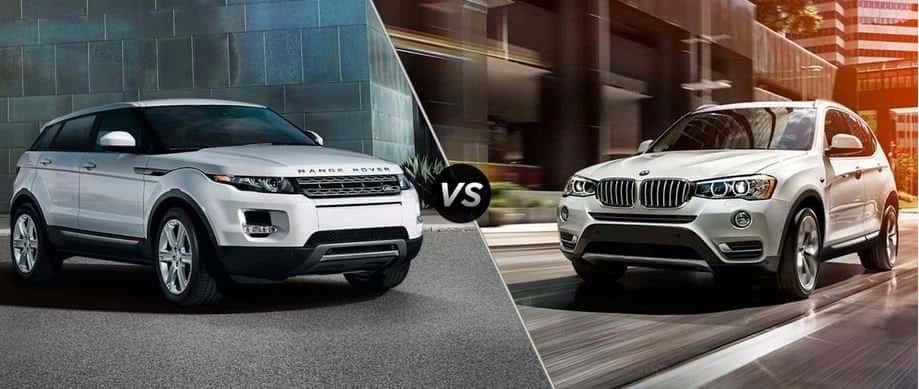 It seems like these days the crossover and SUV segments are only getting more and more popular. To meet the demands of drivers – and then some- many automakers have been coming out with their own luxury compact crossovers. With all of these options out there, models like the Range Rover Evoque and the BMW X3 are now at the top of many drivers' wish lists. Of course, there are plenty of options out there for those looking for a luxury crossover, but knowing how two of the segment's top models stack up against each other is a good place to start.
To help you find the vehicle that's right for you, we took a closer look at the 2016 Range Rover Evoque vs the 2016 BMW X3 and their strengths, weakness as well as any key difference in a comprehensive comparison.
As far as power and performance goes, the two are incredibly similar. Both the Evoque and the X3 offer a sporty performance thanks to the 2.0-liter four-cylinder engine capable of 240 horsepower. And while the X3 offers 10 additional lb-ft of torque, the Evoque more than makes up for it with 2 additional miles per gallon while driving on the highway. The Evoque's lightweight 9-speed automatic transmission with paddle shifters plays a big role in delivering this improved fuel efficiency.

Key differences between the 2016 Range Rover Evoque vs 2016 BMW X3
For two vehicles that are this similar, the extra bells and whistles can really make all the difference. That being said, the Evoque manages to offer a few extra standard features over the X3 such as heated side mirrors, front and rear parking sensors and keyless ignition for an element of added convenience. The Evoque also comes standard with an 11 speaker Meridian premium audio system where while the X3 only has a 9-speaker system.
If you're interested in getting behind the wheel of the Evoque and compiling a model comparison of your own, all you have to do is contact us here at Land Rover Palm Beach. We currently have a wide range of different Evoque models available in our inventory for you to choose from. Just take a look here on our site and give us a call to set up an appointment whenever it conveniences you.
We're sure that once you experience the interior luxury and impressive performance of the 2016 Range Rover Evoque in Palm Beach, you'll have a hard time settling for any other luxury compact SUV.